crucial for muscle development
Optimize your workout performance and support muscle growth.
Honeydew/Watermelon
BCAA Post Workout Powder
BCAA Post Workout Powder is a blend of 5000mg of branched-chain amino acids and Glutamine for lean muscle and recovery. It contains the ideal ratio of 2 parts Leucine to 1 part Isoleucine and Valine. These amino acids increase protein synthesis and nitrogen retention, both essential to building lean muscle.
Learn more
PERFORMANCE BOOSTING
L-Glutamine Powder
L-Glutamine is produced in the body and is the most abundant protein in the blood and other bodily fluids. However, highly active individuals usually have higher Glutamine needs than their bodies can produce. Therefore, supplementing with it is essential for those wanting to perform better.
Learn more
go beyond
supplements
FOOD & BEVERAGE
Convenient and nutritious options to support your active lifestyle.
EXPLORE RANGE
Notes of cocoa powder,
caramel, and walnuts.
Brazilian Blend 16oz
Our single-origin Brazilian Blend 16oz Coffee will surely be your customers' new favorite coffee. Using masterful roasting techniques, these coffee beans deliver a rounded flavor profile.
This estate coffee was roasted using a sophisticated and skillful procedure called "split-roasting." To showcase the delicate flavors and fragrances of the coffee, a portion of the beans are roasted for less time and to a lighter color.
Learn more
High Protein
Meal Replacement (Chocolate)
Our High Protein Meal Replacement (chocolate) comprises the perfect balance of protein, carbs, and healthy fats, giving your body elevated levels of sustained energy for up to four full hours. This High Protein Meal Replacement powder tastes fantastic (like a hand-dipped milkshake) and contains a healthy dose of fiber and digestive enzymes for maximum absorption.
Learn more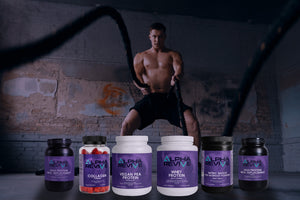 SUPERCHARGE
YOUR WORKOUTS
PROTEINS & BLENDS
Supports muscle growth, recovery, and overall performance.
EXPLORE RANGE